A Nautical Yarn
Keighley Goodchild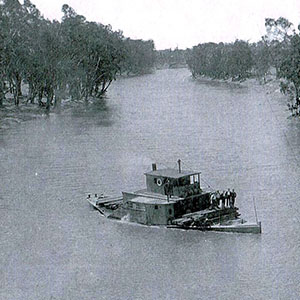 I sing of a captain who's well known to fame;
A naval commander, Bill Jinks is his name.
Who sailed where the Murray's clear waters do flow,
Did this freshwater 'Shellback," with his Yo a heave Ho.
To the port of Wahgunyah his vessel was bound,
When night came upon him and darkness around
Not a star on the waters its clear light did throw;
But the vessel sped onward, with a Yo a heave Ho.
"Oh! captain, Oh! captain, Let's make for the shore,
For the winds they do rage and the waves they do roar!"
"Nay, nay," said the captain, "though the fierce winds may blow,
I will stick to my vessel, with a Yo a heave Ho,"
"Oh! captain, Oh! captain! the waves sweep the deck;
"Oh! captain, Oh! captain, we'll soon be a wreck -
To the river's deep bosum, each seaman will go!"
But the captain laughed loudly, with his Yo a heave Ho.
"Farewell to the maiden - the girl I adore;
Farewell to my friends -I shall see them no more!"
The crew shrieked with terror, the captain he swore -
They had stuck on a sandbank, so the men walked ashore.
LISTEN TO POEM
Keighley Goodchild
(1851 - 1888)
Keighley John Goodchild resided in Echuca during the 1880 period until his death in 1888 from consumption, aged 37. He was employed as a compositor and writer at the Riverine Herald newspaper, which was then located in High Street.
His writing skills were recognised in London and one of his poems was included in a collection of Australian Ballads and Rhymes, published in Britain.
At fifteen years of age he landed in Melbourne and got work on the Argus. Goodchild wrote the ballad while the Billy Boils, his best known work. He worked for various newspapers and as editor of the Echuca Advertiser. At the time of his death, he had worked in the literary department and composing room of the Riverine Herald for two years. His work for the paper included the short essays published as Municipal Musings.
Goodchild is buried in an unmarked grave in Echuca Cemetery.
The poem featured, Echuca Historical Society believes was written in Echuca about a well know riverboat captain Gus Pierce.